Protect and Preserve Your Vision
Quick, easy, and non-invasive genetic testing for sight-threatening diseases.
Ask your doctor about the AvaGen™ Test
Why is Genetic Testing Right for You?
AvaGen™️, The Genetic Eye Test, can help you and your loved ones  get ahead of sight-threatening diseases.
With clarity and precision, AvaGen™️ calculates your genetic risk for keratoconus and the presence of corneal dystrophies – effectively helping you and your doctor understand:
Your risk for keratoconus
If you have a corneal dystrophy
Whether or not you can undergo corneal procedures, including vision-correction  procedures, such as LASIK
The Answers You Need in 3 Easy Steps.
Your doctor swabs inside both cheeks to collect DNA and ships your sample to the lab for testing
Your doctor will inform you of the results, answer any questions you may have, and discuss potential next steps with you
Comprehensive genetic counseling sessions are available for patients complimentary
Why Early Testing Matters to You and Your Family
In the past, genetic eye disorders like keratoconus and corneal dystrophy could only be diagnosed by a doctor physically examining the shape and appearance of the cornea. This meant the disease may be undiagnosed and continued to progressively worsen and permanently affect vision over time.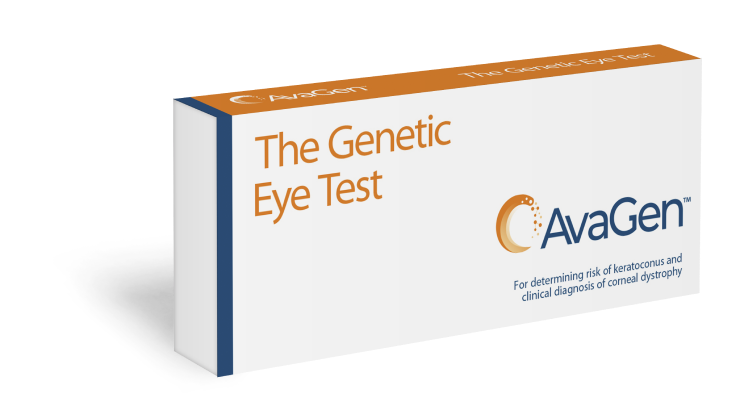 That is why early and accurate diagnosis with AvaGen™️ is so important to protecting you and your family's vision today – for the things you'll see tomorrow.
What is Keratoconus and Corneal Dystrophy?
Keratoconus – a genetic eye condition (or developed environmentally through dust, toxic fumes, and allergens) that occurs when the cornea, the clear, rounded front part of the eye, thins and bulges into a cone-like shape. Symptoms include:
Blurred vision
Seeing glare and halos around light
Eye pain
Sensitivity to light
Corneal Dystrophies – some sight threatening corneal dystrophies can be genetic eye disorders that run-in in families and cause changes in the cornea – ranging from swelling to buildup of abnormal material. Symptoms include:
Vision loss
Eye pain
Dry eye
Sensitivity to light and glare
Feeling that something is in your eye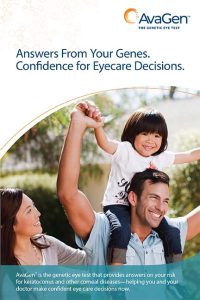 This brochure explains AvaGen™ and why it may be right for you. Read how the test works, learn about keratoconus and corneal dystrophies, find out how to locate a genetic counselor, and more.
Long, medium, and short form web copy to include on your practice website.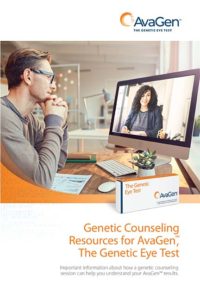 Genetic Counseling Brochure
Important information about how a genetic counseling session can help you understand your AvaGen™ results.